06 Feb

Airport's FBO Achieves IS-BAH Stage II Safety Endorsement

London Oxford Airport's FBO achieves IS-BAH Stage II safety endorsement

Press Release – Wednesday 24th January 2018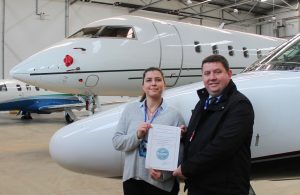 London Oxford Airport, one of the UK's busiest business aviation hubs has been formally awarded Stage II of the International Standard for Business Aircraft Handling (IS-BAH). This industry leading accreditation is the global standard for best business aviation safety practice. Significantly, Oxford Aviation Services Limited, OASL with its OxfordJet branded FBO, is one of only a handful of FBO's in the World to have received the Stage II endorsement and only the second in the UK, after TAG Farnborough.
The FBO passed the highly stringent safety management audit in November following an external assessment by an IBAC-accredited (International Business Aviation Council) auditor. OASL was one of the first FBOs in Europe to be awarded IS-BAH Stage I in 2015. The Stage II achievement represents a higher standard of safety management system compliance and control than Stage I as well as a broader awareness of the safety systems amongst all of London Oxford Airport employees.
Commenting on the achievement, London Oxford Airport Managing Director, Andi Alexander said: "We are very proud to have achieved Stage II IS-BAH accreditation. It's an important international endorsement for our FBO and its ground handling services which has been achieved by the sheer hard work and dedication of our great team. Importantly, it's an acknowledgement of the highest standard for managing risk and ensuring quality which will undoubtedly be valued by our operators and welcomed by our customers."
Terry Yeomans, IS-BAH Programme Director, added: "I am delighted to congratulate the team at Oxford Aviation Services Limited team on this great achievement and thank them for their support and dedication to safety and customer service. We now have 100 FBO's worldwide who have achieved IS-BAH status and we continue to see more professional operations like London Oxford embracing the SMS culture that not only takes the organization beyond compliance but builds on our excellent safety record goal established by business aviation. .
IS-BAH is supported by industry associations EBAA and the UK's BBGA and is a voluntary global code of best practices for ground handlers working in business aviation.
IS-BAH incorporates the NATA Safety 1st Ground Audit Program and follows the structure of the IS-BAO programme. It is part of a joint initiative run by IBAC and US NATA (National Air Transportation Association).
About London Oxford Airport
London Oxford Airport is wholly owned by the Reuben Brothers. Their investment activities span private equity, as well as real estate ownership and development.  Businesses include data centres, race courses, media, public houses, hotels and metal storage.  At the end of February 2012, the Reubens purchased the London Heliport at London Battersea, the UK's only CAA licensed heliport.  The Heliport is a 22-minute helicopter ride from London Oxford Airport.  London Oxford Airport has been the fastest growing airport for private business aviation in the United Kingdom over the last five years and aspires to be recognised as a new option for commercial airline services within the Thames Valley region, North West of London.
For more media information:
Alison Chambers / Liz Danner
Emerald Media
Tel: +44 (0)1420 560094
Email alison.chambers@emeraldmedia.co.uk / liz.danner@emeraldmedia.co.uk