20 May

London Oxford Airport Embarks on Major Development Programme

Press Release – 17 May, 2021

London Oxford Airport Embarks on Major Development Programme
Major new hangar complex
Seven new helipads built
New fuel farm ready for SAF
New fire station anticipated
As part of a new strategic plan, London Oxford Airport has commenced construction work on a new development phase, which will, when complete this autumn, be its most significant step forward to date. Central to the work is a 63,000 sq. ft. (6,000m²) 140m long hangar with two bays including rear offices, stores and workshops, capable of accommodating up to six Bombardier Global, Gulfstream or Dassault Falcon Jet models, simultaneously. The new hangar, the airport's 15th, is the first facility in a new zone of the airport to the north of the original site.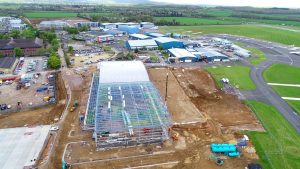 The hangar will be used predominantly by established tenants, many of whom reside in some of the older WWII facilities, along with a number of larger business aircraft for which there has been limited capacity at Oxford. The airport will progressively replace 80-year-old hangars with new, bespoke facilities, providing turnkey solutions for clients.
With demand for space consistently outpacing supply within the London region, the airport is committed to invest in infrastructure to accommodate more business and allow established companies, such as Airbus Helicopters, Volare Aviation and Jet Maintenance International (JMI) to expand. The airport is home to a number of aviation support businesses (MRO) that cover maintenance, engineering, modification, design and operational support services. The new environmentally-efficient facilities will support existing aircraft and future next-gen aircraft, including eVTOL and hybrid/electric models.
Additional infrastructure has included the feeding-in of significantly more power onto the site.
The projects have been overseen these past 12 months by Will Curtis, who joined London Oxford Airport as Managing Director in 2020.
Seven new helipads
A large area of new aircraft parking apron has been created but also seven new ICAO/EASA/CAA-compliant helipads supporting Airbus Helicopters and the growing number of commercial AOC helicopter businesses at the airport like MyHeli. These complement operations with the co-owned Edmiston London Heliport, London's only CAA-licensed heliport, which supports up to 12,000 movements year and the capital's essential police and air ambulance flights.
London Oxford Airport will also commence work on a new fire station to be established in a central position on the airport. This will allow for fulfilling the need for the highest fire categories at all times having also just ordered three new Angloco Scania 26 tonne fire tenders.
New fuel farm, ready for non-fossil fuel
A new fuel farm will enable a quadrupling of the capacity of the original facility, whilst also providing valuable space for additional future static tankage for Sustainable Aviation Fuel (SAF). The industry is progressively introducing SAF with up to 80% reduction in lifecycle CO2 emissions.
"In a new post-pandemic economic environment, it's critical that the UK ramps-up its capabilities and capacity to provide growth and further employment, especially in high value, high-skilled and knowledge-based industrial sectors," said Will Curtis, Managing Director. Aerospace and aviation are set to rebound and business aviation is leading the charge, so timing is crucial. Now we have put in the infrastructure for growth, we can build further facilities with relative ease and speed and further bolster employment opportunities – adding to the near on 1,000 employees based on site."
Head of Business Development, James Dillon-Godfray added: 'We have long-established maintenance, repair and overhaul (MRO) businesses that need to expand. These new developments allow us to move people around the airport to facilitate that. We are also in dialogue with several new entities about joining us in the next few years, for which this capacity is essential."
London Oxford Airport hosts a varied mix of general and business aviation users with a very strong pilot training base. It is home to Airbus Helicopters UK's headquarters and a steadily growing business aviation sector, supporting around 10,000 passengers a year both private and charter, mainly for business trips. Recently the airport welcomed its largest regional airliner type, the 145-seat Embraer EMB-195, supporting charters for the motorsports community, proving the usefulness of the airport in supporting one of the UK's most dynamic and successful industry sectors.
With several peer UK airports and airfields known to be closing in the years to come, Oxford is striving to contribute to the Government's stated objective of becoming 'The best country in the world for general aviation' ensuring there is the capacity to support this aspiration.
Last year saw the establishment of a new 100-room hotel at the entrance of the airport at the Oxford Technology Park, creating more jobs and a great new amenity on the doorstep.
Effective 17 May, the airport will be opening up to non-essential travel in accordance with the UK Government's easing of Covid-related constraints. Despite the constraints, however, the airport saw a five-fold increase in business flights in April compared with 2020.
"Further announcements on additional developments will be made as the year progresses, marking a new stage in the airport's evolution," James concluded.
For further information contact:
James Dillon-Godfray
Head of Business Development
London Oxford Airport
Tel: +44 (0) 1865 290 710
E: jdg@londonoxfordairport.com
@LOXOXFEGTK
@OxfordAirportUK