04 Mar

New Global Headquarters for Airways Aviation

Strategic move brings leading pilot education and training provider to London Oxford Airport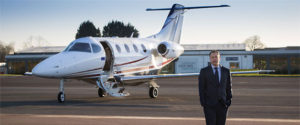 Airways Aviation is establishing global headquarters at London Oxford Airport, supporting its rapid global expansion strategy.Airways Aviation relocates to Airways House at the Oxford-based airport in April, as demand for high-calibre commercial flight training has seen its UK-based cadet numbers double in 2015. Cadet numbers are predicted to rise to at least 150 in the coming year.
As well as receiving EASA-approved training at London Oxford Airport, cadets will be able to fly from Airways Aviation's recently opened fair-weather flying base in Huesca, Spain. The strategic move to a new global HQ at Oxford, from the company's previous UK base in Coventry, positions Airways Aviation for significant international growth in the coming years to meet increasing industry demand for skilled commercial pilots.
Airways Aviation CEO Ian Cooper says: "Airways Aviation is growing rapidly and our new Oxford base gives us much-needed space to expand our world-class training facilities. Cadets will have access to unrivalled training technology including DA42 simulators, the latest eLearning systems and our high performance Hawker business jet, as well as small class sizes that will deliver resilient training and prepare them for the aviation industry.
"From our recently launched Elite Pathways programme to our collaborations with universities, Asia- based cabin crew training and foundation schools, we are carefully crafting an outstanding aviation training and education solution that goes beyond simply teaching to internationally-recognised standards. It is our goal that every cadet graduates genuinely industry-ready, capable and able to tackle the challenges that aviation presents," says Cooper.
Andi Alexander, London Oxford Airport managing director, says: "Having another global player in the professional pilot training arena based at Oxford further confirms our historic position as one of the world's pre-eminent pilot training hubs. We're delighted that Airways Aviation will bring innovative new capabilities and methods to an airport that has seen the start of tens of thousands of pilots' careers, who have joined more than 90 airlines around the globe over the last 75 years."
Alongside the new HQ, Airways Aviation has a strong portfolio of pilot training academies across the globe, including EASA-certified schools in Spain and Australia. The Australian flight school is also CASA-certified. It boasts a worldwide network of foundation schools including China, Japan, Malaysia, Indonesia, Dubai and Lebanon, with plans to bring another 30 online within the next 18 months.
High-res images and interviews with Airways Aviation CEO Ian Cooper are available. For more information, please contact:

80:20 Communications
Charley Mann/Sam Murray
Tel: 020 7664 6310
e-mail: airways@8020comms.com
---
About Airways Aviation:
Airways Aviation provides airlines direct access to the most highly skilled and finest trained commercial pilots. From the unique international foundation pathway to frozen ATPL, Airways Aviation provides aspiring pilots with EASA or CASA qualifications. It operates world-class Pilot Training Academies in the UK, Spain, Montenegro and Australia, offering a full suite of industry accredited pilot training courses. With Pilot Training Academies and Aviation Foundation Schools in key locations across Europe, the Middle East, Asia and Australia, Airways Aviation brings together more than 30 years of world-class flight training experience to meet the rapid growth in demand for commercial pilots globally. Airways Aviation is driven by a commitment to make aviation accessible to anyone who shares its joy of flying.